In Douglas Adams' Hitchhiker's Guide to the Galaxy, the stories hero, Arthur Dent, finds that a bypass is about to be built through his house. When he remonstrates with the demolition foreman, Mr Prosser, who has come to tear down his home, he is told that he had plenty of time during the public consultancy:
PROSSER: But Mr. Dent, the plans have been available in the local planning office for the last nine months!

ARTHUR: Yes, well, as soon as I heard, I went straight round to see them. You hadn't gone out of your way to call attention to them, had you? I mean, like actually telling anybody.

PROSSER: The plans were on display—

ARTHUR: On display? I had to go down to the cellar to find them!

PROSSER: That's the display department!

ARTHUR: With a flashlight.

PROSSER: The lights had probably gone out.

ARTHUR: So had the stairs.

PROSSER: But you found the notice, didn't you?

ARTHUR: Yes, I did. It was "on display" in the bottom of a locked filing cabinet stuck in a disused lavatory with a sign on the door saying, "Beware of the Leopard."
Now. I'm not saying that the plans for the Square redevelopment were quite so clandestinely kept from view, but for a public consultation, they weren't exactly very, well, public.
Although briefly mentioned in the Beeston Express, The Nottingham Post didn't seem to recieve a press release, and it seems that even Councillor Pat Lally didn't get wind of it until this morning. Perhaps, in this digital age, you can just pop online and have a look for yourself? Err, no. If you want to see the plans in any detail, you'll need to be sent an email from Henry Boot Developers which will have a PDF file with the details on. How do you get that email? By giving your email address. And you can only do that at, errr, the public consultation (though I'm sure they'd oblige if you directly contact them at plc@henryboot.co.uk ). Naturally, I'll upload the file when / if I recieve it.
Surely the plans could be have left up in the library over Saturday? Even if this means that the staff from Henry Boot were not in attendance, it could prove to be interesting nonetheless.
But why this shyness? Well, I doubt it's anything to do with any controversies of the design; but more to do with it's lack of ambition. Have a look at this: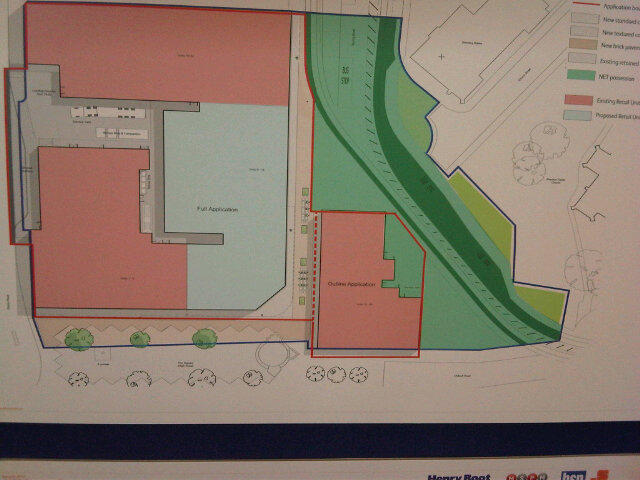 This is the outline plan. It's not easy, at first glance to work out what's going on, so here's how it looks  when placed in context to other landmarks: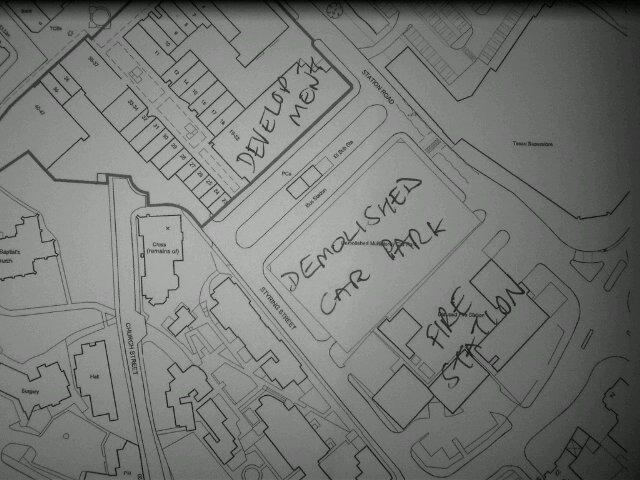 So, a decade of waiting for Beeston to recieve  a facelift it so desperately needs and …well, not a lot is actually being done. We'll get that bit of Square and the precinct done, but…nothing else. The demolished bus station? The fire station? Wasteland. Remember the Station Street rubble pile that replaced the fine facade of Beeston Lad's Club, the bombsite look-a-like that made even the building of Tesco seem like a step in the right aethetic direction? Well, it's crossed the road.
I asked the director of Henry Boot, a smartly-suited young man called James Greenaway, what they'd do about it. 'We want to get cracking as soon as possible on this first development. We bought the site a decade ago and assumed it would be developed in two, maybe three years. No one wants to see empty units' . Would they  then develop the wasteland? 'The Council own that, but of course we'd like to'. I ask why it's taken so long ' We've been greatly frustrated in ways we never expected.'
So this seems to be the time scale now. Assuming planning consent is granted, work will begin in Autumn, to tie in with the tram works, and completed, more or less in tandem with the tram, in the spring/ summer of 2014. That would then probably lead to a planning application hitting the council for development of the wasteland in 2015. If the same faffing that has hit this primary development occurs again, we therefore can expect any meaningful completion of a coherant centre of Beeston in, oooooh, around 2025.
Why these delays? Could it be related to the fact rival developers Cushman and Wakefield were bought in as consultants for a large fee to advise on the development. Maybe they were happy to oppose and prevaricate in order to keep raking in the consultancy fees? Any experts in the field of development, please feel free to get in touch.
I will post up any files I get from Henry Boot, and would welcome comment from all parties: this is, after all a public consultancy. I have more info, particularly on the prospective retailers who will be coming in, but that's a secondary issue right now so will write it up over the weekend. I have paper copies of a couple of the plans and will pass them on to anyone who wants to, and will host the full plans when recieved. Beeston is changing – albeit in a rather underwhelming fashion-be part of it.